How To Avoid Rogue Drainage Contractors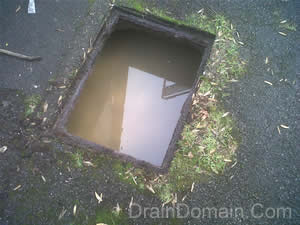 TV shows such as House of Horrors & Rogue Traders have highlighted the rogue element within the drainage industry and hopefully made the public aware of the basic steps that should be taken when choosing a drainage contractor.
This is not to say that there are any more cowboys in the drainage industry than there are dodgy roofers, electricians or mechanics and i honestly believe you are more likely to pay over the odds or get poor results from an outfit with "all the gear and no idea" than come across somebody who is just out to rip you off, but it does happen i am sorry to say.
The horror stories tend to be in the emergency unblocking side of the business because that is where cash, cheques and credit card numbers change hands, customers who find themselves paddling about in raw sewage or have waste water dripping from a light fitting understandably employ the first contractor who promises to be on site within the hour rather than basing their choice on cost, experience or reputation.

We also come across sky high invoices for excavation or relining works that were never actually carried out or were only partly carried out and contractors going through a lean time have been known to recommend works that don`t actually need doing.
The main problems and defects we come across are just down to poor workmanship such as defective drain liners, poorly installed pipe work and poor reinstatement such as trenches settling, tar-mac sinking, flags rocking etc......

The following are a few tips on finding a contractor to clear a blocked domestic drainage system, the same steps can also be used to find contractors for inspection and repair works.
Word Of Mouth
Ask friends, family and work colleagues and you will be surprised how many people have had to use a drainage contractor at home or at work at some time or other, if they can`t recommend the company they used due to a bad experience at least you can cross them off your list

Speak to somebody who has the need to use a drainage contractor on a regular basis such as whoever looks after the local council housing stock, estate agents, your local school caretaker and your environmental health department. Most local authorities in an attempt to be impartial (and rightly so) will have a list of at least three contractors they use or put tenders out too.
Phone Directories, Phone Books Etc....
A bit of a lottery i am afraid, if you are going down this road you really should be prepared to ring at least three contractors and ask a few questions, there are a couple of things you should watch out for though.
Many companies list themselves as local but travel miles to get to you and its you who will be paying for all that diesel, most directories require the advertiser to put there head office on their advert in small print so check it out. This will not eliminate smaller contractors local to you and truly national operators will have a satellite office in your area, it will however eliminate companies trying to appear larger than they are and hopefully save you a three hour wait whilst they make their way across four counties to get to you.

You also need to know when you start paying for their service, the £70.00 per hour you were quoted sounds cheap enough until you find you are paying for two hours traveling time either side of the visit.
Internet & Websites
Web sites give you an opportunity to check out a contractor with many posting photo`s of the specialist equipment they use and describing in detail what services they offer and some even list their call out charges, but beware you can give the impression of running a multi-national organisation with a few stock photos and a neat and tidy page lay out.
Drainage Associations & Industry Bodies
Unfortunately there is no such thing as the Federation of Master Drain Rodders and Toilet Plungers to look out for when you are thumbing your way through a directory or scanning a web site, there are a few associations for jetting contractors and no-dig specialists but the industry is largely un-policed.
The Drain Repair Book was recently launched by the Wrc and a number of insurance companies in an attempt to set a single standard for all drainage repairs and investigation works, but unfortunately it may be some time before this is widely taken on board by contractors whilst it remains voluntary.

There is a Quality Mark scheme covering all aspects of building works and many companies have an ISO 9001 Certification and there is the CITB Construction Skills scheme, if you see any of these logos on a companies paperwork or web site it should be an indication that they have taken some steps towards improving in-house training and general organisational skills.

It is not however a guarantee of work or workmanship and some may say that companies sign up to these schemes to the minimum requirement in order to use the logos as a marketing tool, but that`s a topic for another page sometime in the future.


Note - Since i originally wrote this page in 2010 the excellent National Association of Drainage Contractors has been formed and they are doing some stellar work with regard to bringing together drainage contractors, suppliers and training providers.

Communication Is The key
Clearly explain what your problem is (blocked manhole, blocked sink, blocked downstairs WC etc) and ask them what they are going to do, in what order and get a fixed price quote, they don`t have a crystal ball at the other end of the phone but they do know what equipment they have in the van so its easy enough for them to say if its a blocked manhole and they clear it with rods it will be ££££ ex vat, or if they clear it with a jetter in the first hour it will be ££££ ex vat and ££££ per hour after that.
Most domestic blockages are sorted in an hour or two but there are contributing factors such as poor water pressure when filling a jetting unit, poor access to the site or no access into the drainage system that can add time to a job. If you get a set price for a set time on site there will be no nasty surprises when the invoice is handed out, if the job runs over your drainage contractor should then explain why and tell you your next hourly rate before additional works are carried out.

Obviously there will be times when internal pipe work is just not accessible due to cupboards, suspended ceilings, vanity units etc and a system can not be cleared due to a concealed manhole or buried trap, and no drainage contractor can foresee this before he gets on site but he wont expect a blank cheque either so its comes down to basic communication between the two parties.
On the other hand if the guy is an obvious slacker, walking around chatting on his phone or texting his girlfriend then show your face and watch him spring into life, i am am great believer in a little knowledge being a dangerous thing as far as some customers go but showing a passing interest in the job is to be expected and again any decent contractor will thrive on having the chance to bore you with the gory details of the job.
Another question you may wish to ask is whether the engineer they are sending you is on commission or not, an engineer who`s take home pay is directly connected to the amount of invoicing he hands in at the office is more likely to charge you more, if he`s having a quiet day he may just make camp for four or five hours until his next call comes in. Some companies also pay commission for every camera survey the engineer brings in and even a small percentage of any excavation and repair works they find which is all well and good when the works are necessary but it can be open to abuse by the rogue trader.
Some contractors charge by the half hour which initially sounds cheap but can soon add up, a good reputable contractor will be busy enough so he will just want to get you sorted and move to the next job. The same contractor won`t charge you for the second hour because he`s been on site for 65 minutes and spent fifteen of them slurping down a mug of tea and munching the chocolate hobnobs you kindly provided.
So Are You Better Off With A One Man Band Or A National Drainage Contractor ?.
The truly local contractor should be easy to find by word of mouth and he will care about his reputation locally (this includes local franchisees or local branches for the national operators), however the smaller outfits may not undertake all aspects of drainage work such as no-dig repairs or operate camera inspection systems for larger diameter pipe work. The national operator will almost certainly have all the latest gear and techniques, and their guy in Cambridge could be a great fella whilst the guy in say Wrexham may not be so hot.

So its impossible to say i`m afraid which is why you should take the time to speak to several companies before you choose one, it is also the reason you should try to find a contractor by word of mouth.
Drain Inspection & Repair
Most operators now produce text and images in a digital format making it easier than ever to move information around, so if you have had a drain camera inspection carried out copy the disc and get a second or third opinion or estimate. Many contractors will view any report or images you have free of charge for the opportunity to price for the repair works