Tanking and Water Proofing Cellars & Basements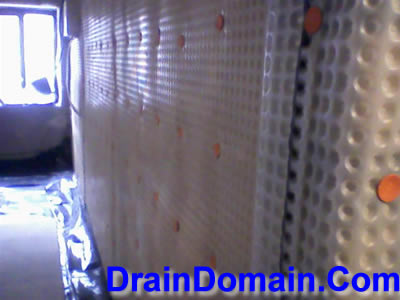 Cellars are of course damp and wet places and on older properties this was part of their job description, there are occasions when the cellar is a little wetter than you would like for simple storage or a workshop or you may be considering converting the space for a new kitchen, bedroom or home office.
It is always better to find the source of water ingress into a basement or cellar and cure it however this is not always possible and sometimes the cost of extensive investigations can outweigh the cost of a simple solution, then of course you may not have a known problem whilst you install your state of the art kitchen or home office in your cellar but the `law of sod` says as soon as the jobs done you find damp on the walls or standing water in the middle of the floor.
There are plenty of companies available who offer cellar and basement tanking systems many of which are insurance backed, these usually involve installing renders to hold the water back and in affect `tank` the basement and then there are systems that allow the water to enter the area but through a drained cavity system (image above) direct it to a sump and pump it away. The system that suits you will be dependant of the severity of the ingress and the structure and condition of your property.
Alternatives To A Full Cellar Tanking System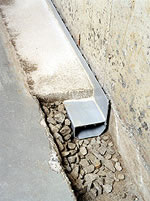 if you are undertaking major conversion works and spending big money on fixtures and fittings you should consider spending the additional money and having one of these systems installed. If however you are just looking to dry out your basement or tidy it up for storage there are a couple of things that you can do to intercept and remove any water ingress before it ponds in the centre of the floor.
If you are feeling particularly energetic you can excavate around the basement walls and render the external brickwork down to below floor level, this is not very practical, quite expensive, disruptive and potentially dangerous if not carried out by an experienced contractor. We do occasionally still do this kind of work if we are carrying out major excavation works to investigate the water source or if we are installing an external land drain system to intercept the water before it reaches the property.
If you have slight ingress through the brickwork you can intercept the water by installing a linear channel drain at the base of the cellar walls which then outfalls into a trapped gravity drain or a chamber containing a submersible pump, channel drains are typically 75mm or 100mm wide and come with galvanised, cast iron of coloured plastic grating so if the basement is a workshop or just for storage they are not too unsightly.
You can of course baton out the walls and fit plaster boards (using a protective sheeting so that the moisture does not transfer through to the plaster boards) to conceal the channel drainage, this is a common approach and to reduce the width of the channel threshold drains or slot drains (used in block paving) can be used to reduce the channel to as little as 15mm, it really depends on the volume of water you are dealing with and its always a good idea to leave some sort of access for maintenance and cleaning of the channels in the future.
| | |
| --- | --- |
| Threshold Drain | Linear Channel Drain |
| | |

DrainDomain Disclaimer (The Bit That Hopefully Keeps Me Out Of Court)
Any cellar or basement conversions have to comply with several building control regulations including fire escapes, ventilation and damp proofing, you should therefore consult you local building control office.
Do consult a competent contractor prior to undertaking any works, speak to a structural engineer prior to any works local to or adjacent to house foundations.
Do Not excavate lower then your building foundations, do not undertake excavations adjacent to or level with foundations for long lengths, do not break out concrete or cellar floors beneath supporting walls or pillars, do not drain water from below or adjacent to your house foundations without consulting a structural engineer.

Thank You