Drain Camera Inspection Reports
Most drainage contractors will have a drain camera inspection system of some description and many will undertake what we call look-see surveys to show you why your system has blocked, however if you are to obtain like for like quotes for a repair or you are going to approach your insurers regarding a claim for accidental damage to your drainage system you will need a detailed drain survey report and a digital recording of the survey.
A good CCTV Drain Survey Report should be informative but easy to read and a site plan helps the home owner or client get some idea of what you are trying to say. Any basic survey should contain the following
Digital Recording -

A DVD or video file of the survey.
- Still images if required to highlight settlement to gullies, fractured channel pipes etc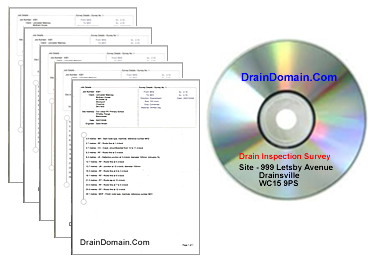 Data Sheets -
These should show the following;
- Start and end point of survey.
- Pipe size, material and length
- Pipe depth
- Direction of survey, upstream or downstream
- System type, foul, storm or combined
- Ownership of system, shared or private
- All connections and changes of direction on system
- List of defects found including distance from start point of survey
Marked Site Plan
A drawing of the site or marked site plan
- Showing numbered manholes, rodding points, gullies and soil vent pipes.
- System layout including indication of direction of flow
- Hard standings, lawns and flower beds.
- Changes in landscape such as raised patios or steep inclines
- Indication of system in respect to boundary lines, footpaths and roads
Written Report
An overview of the completed survey and findings
- Why the survey was carried out, home buyer survey, problematic system etc
- Summary of what was found
- Recommendations for repair if required
There are other items that could be included such as the weather if you are surveying a storm or combined system during prolonged rainfall and the water levels are high, if the system has been cleaned or not. Manhole reports are usually for bigger projects but if defects are noted this should be highlighted on the data sheets and in the recommendation section of the report.
I have been asked to assess many different reports over the years and they can range from page after page of data from which you would struggle to gather any useful information unless in the industry, through to a hand written note on the back of a fag packet including tea stain and mucky thumb print.
A well written report can cut straight to the defects and any recommendations required and the data sheets are there to back up the findings, a simple site plan can help the layman understand what is wrong, where it is and what you propose to do about it.
There are several software programs on the market that make collating the above information easy, neat and the reports professional looking, for more information click the link in the left hand column