Drainage Junctions
Junctions were used where two drain lines meet such as a branch line from a soil vent pipe connecting into the main line drain running parallel with the property, the older catalogues have many weird and wonderful shaped junctions with branches entering at many different angles but today we tend to work with oblique and square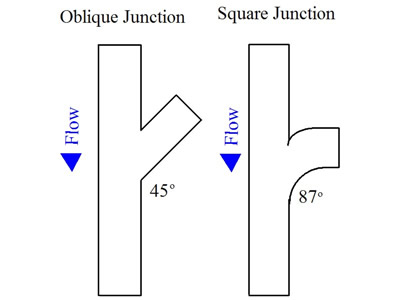 junctions.
Oblique Drainage Junctions
These have a branch line entering the main line at an angle of 45 degrees this ensures that the flow from the branch enters the flow of the main line at pace without causing disruption or backwash, any connection from a toilet or soil vent pipe should be made using an oblique junction and it is generally good practice to use them on all connections if possible.
Square Drainage Junctions
These are also known as curved square junctions and have the branch line entering at 90 or 87 ½ degrees and are suitable for storm system connections they are also utilised for rodding points, backdrops prior to chambers and dip pipes on septic tanks.
It is standard practice on older drainage system to connect two lines together using the above junctions without any consideration for access into the branch line at a later date, modern day specifications however lean towards installing inspection chambers at points where there are changes of direction or at the point that a toilet line connects into the main line drainage. For this reason there are numerous preformed manhole bases available with built in channel junctions entering at 45 and 90 degree angles.
The problem here is that if you install a chamber at every connection for gullies and toilet lines you could end up with umpteen chambers around the property, whilst chambers are a necessity at some points on the system you can often install roddable gullies or rodding access points on soil vent pipes in order to keep the number of inspection chambers to a minimum. If you are undertaking a new build project you should speak to a local building control officer prior to installing a system to find out his or her minimum requirements.
Bodged Lateral Connections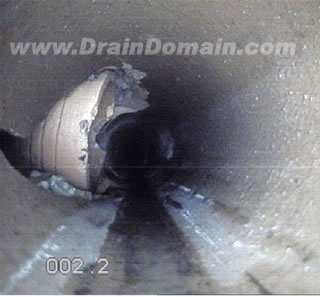 Unfortunately as drainage systems are usually out of sight junctions were not always used when two separate drainage runs were connected together, often a hole would be knocked into the side or crown of the outfall pipe and the incoming pipe would then be butted up to this point. The connection would then be typically sealed or at least partly sealed using a plastic bag and several hundred weight of poorly mixed and weak concrete, there are several variations of the universal joint method including the use of cut down road cones, cut down flower pots, pieces of lead and slate.
These bodged connections cause untold problems to the drainage system as the act of knocking lumps out of a clay pipe with a hammer invariably causes fracturing and damage to the pipe work either side of the connection, these connection also tend to protrude into the outfall drain which can hinder the flow of a system. These poorly installed connections allow water loss to the sub-soil which can undermine the system and they are prone to root ingress and soil erosion.
Drainage Saddle Connections
Drainage saddles were developed so that the above bodged connections could be made in a controlled and structural manner, the saddles had an outer flange to prevent the connection from protruding into the outfall pipe and they were produced in 45 and 90 degree angles. The idea being that you used a template to carefully cut a correct sized hole in the outfall pipe before fitting the saddle, concrete was again used to seal the pipe on the outside and a fast setting mortar was used to create a smooth and water tight seal on the inner wall. This was fine as long as the hole was cut using a small disc grinder or by stitch drilling around the template but this was time consuming and alas the old lump hammer tended to make an appearance and the pipe was again butchered in order to fit the saddle.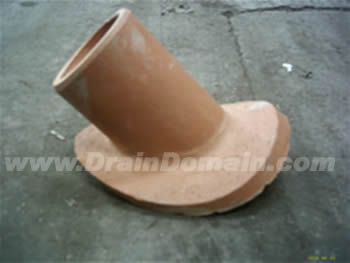 It is just as easy to fit a full junction on pipe work from 100mm to 150mm in size, where saddles offered an advantage was on large diameter pipe work from 225mm upwards. Cutting out a section of a fast flowing 300mm sewer can often involve over pumping with a 300mm junction and pipe adaptors costing a small fortune compared to the cost of a saddle connection.
However with the advent of drain camera inspections we can now see the damage that poorly fitted saddles have on sewer and drainage systems and many water authorities decided to ban the use of drainage saddles on their systems, there is also a good argument that even a properly fitted saddle affects the structural integrity of the outfall pipe by increasing loading pressure on the now weakened pipe wall.
Modern Drainage Saddles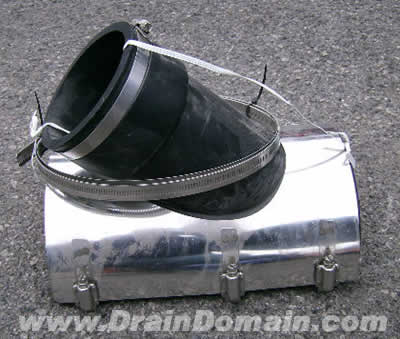 As already mentioned saddle connections are a godsend if you want to connect a 150mm line into a 450mm concrete sewer especially if that sewer is flowing at 25% volume or the lower half of the pipe is sat in running sand or below a ground water table level.

The cost and work involved in pumping over or ground dewatering all adds up as do the labour costs and as sewers are usually beneath the road the inconvenience of traffic lights to the public is often extended because the job takes a lot longer if you have to install a complete new junction.
For this reason modern saddle connections have been developed that offer structural support to the host pipe by way of steel bands there are however strict guidelines with regard to the point that the saddle enters the outfall pipe and the way that the hole is cut into it.