Flexible Drainage Pipe Adaptors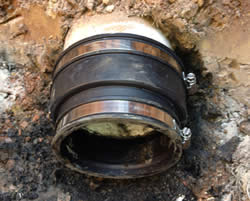 As below ground drainage systems developed and modern materials replaced the old vitrified clay systems we needed a way to connect the different types of pipe work together, many pipe manufacturers produced their own adaptor couplings but the tolerances required to cover the many variations in clay pipe wall thickness meant that there was not a `one size fits all` rigid adaptor on the market, and so the flexible pipe adaptor was born.
These rubber adaptors and couplings are available in sizes from 24mm up to 2000mm and are sealed using stainless steel bands, they are designed for all pipe materials including twin walled plastic sewer systems.
Flexible Drainage Couplings
As with the flexible pipe adaptors these rubber couplings are used for connecting pipes or a similar outside diameter, they differ from adaptors by having a central wide band for centralising the two pipes to be connected, ideal for larger diameter pipework they are available in sizes from 24mm up to 3500mm in various forms including large diameter wrap around couplings for sewer repairs.
These adaptors and couplings are real time savers and offer a simple and affective way of getting a water tight connection on all types of pipe materials, they also offer the flexibility required on modern drainage systems

Flexible pipe couplings and adaptors should comply with BS EN681-1 and or UK and European requirements of ISO4633: 1986, they are designed to cope with the stresses and strain they are likely to come across in our drainage and sewer systems however the materials used can be adapted for harsher industrial environments where chemical attack may occur