Manhole Construction And Parts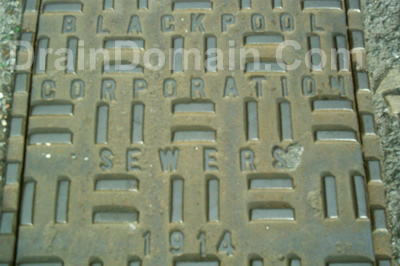 The following are the different sections that form an inspection chamber or manhole and i have tried to cover what would typically go wrong with each individual item.
Manhole Cover & Frame
There are entire web sites dedicated to this one subject on the web with some spotters treating the subject like train or plane spotting, with many of the covers you find on main sewer systems having the name of the manufacturer, the town where the cover was manufactured and the date it was produced they are as much
living history as a date plaque on a building.
There are covers to suit numerous scenarios such as inset covers for driveways and patios, air-tight covers to prevent internal venting and covers to suit different kinds of load situations from pedestrian
use through to highways specification.
Domestic Manhole Covers
The most common covers on a domestic property will be the 600mm x 450mm (or 24` by 18` in old money) cast iron cover, they are not intended to be totally air-tight and seldom are, from the late 1950`s onwards we started to use the concrete covers and frames that are prevalent on large housing estates.
The main problem we find with domestic covers is lifting the bloody things, the cast iron frames can corrode and fuse to the cast iron cover, they can be separated using the trusty lump hammer and bolster chisel along with numerous lifting bars any drain man will carry in his van. However the thin cast iron covers are brittle and they will break if you thrash them in temper after you have just snapped your best bolster chisel.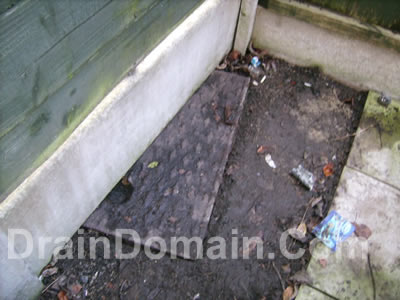 The image to the right shows a perfect example of what makes a drain man go home of an evening and open a large bottle of something, firstly the 24` x 18 ` was buried beneath some flags, when lifted we also find that a member of `mensa` decided it would also be a good idea to build a fence directly over the top. Give me strength !
The concrete covers break and chip when lifted with the wrong equipment or if they are dropped down instead of being placed carefully back into the frame, both cast iron and concrete covers can break due to undue loading. It is good practice to grease up the frame when a cast iron cover has been lifted as this not only makes lifting the cover easier next time around but it also helps seal the cover and frame preventing any venting at ground level.
Plastic Manhole Covers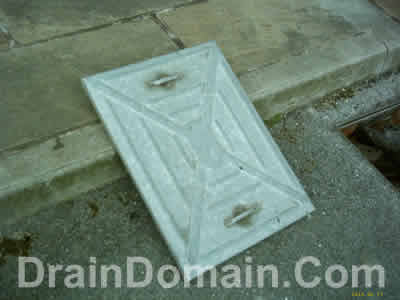 These very lightweight covers are designed to fit the circular plastic manhole rings they are however very sturdy, because they are so light they are almost always screwed into the frame to stop small fingers from lifting them and getting up to mischief.
Galvanized Steel Manhole Covers
Again very lightweight but strong they can be adapted to take loads in excess of 40 tonne however 5,10 and 15 tonne covers are ample for domestic use, a bit shiny and cold for my liking when sat in a
driveway or patio.See image to the right
Inset Manhole Covers
For many years domestic covers were either cast iron or concrete and basically unsightly if you have a tidy driveway or patio, for this reason many covers were buried and forgotten about. These days there are plenty of inset covers available so that the cover can remain at ground level and hopefully not catch the eye so much.
You will never completely disguise a cover and frame but with materials such as block paving and stone paviors a good contractor can blend a cover and frame into the background.
Internal Manhole Covers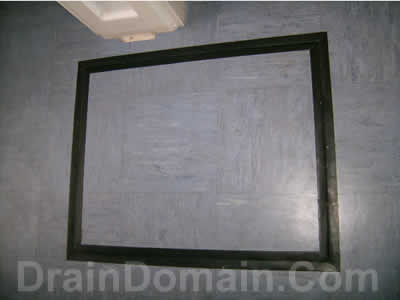 It is never ideal to have internal manhole covers but some properties such as schools and hospitals evolve and it is necessary to build over the existing drainage system, air-tight manhole covers are available for this scenario and again they can be disguised so as not to catch the eye.
The image to the right shows a typical internal chamber in a hospital corridor, disguised enough not to offend anybody yet visible and accessible enough. The cover will also be air-tight with at least one rubber seal fitted in the frame.

Heavy Duty Manhole Covers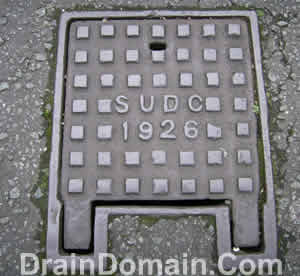 The older covers tend to be constructed out of cast iron and they can be bloody heavy to the point where its a two man job to lift one or you need specialist lifting apparatus, assuming of course that it has not corroded to the frame and become one great lump of cast iron, modern covers are made out of lighter materials and often use box sections on the back of the cover to add strength.

You shouldn't really come into contact with very heavy duty covers on domestic systems and they tend to be found in the highways and on industrial sites, great care should be taken in lifting any manhole cover and remember to count your fingers and toes before and after to make sure they are all accounted for.