Root Damaged Manholes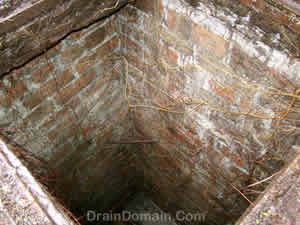 Manholes and inspection chambers are installed to give access into a drainage system for maintenance purposes, however they can often be the weak link in the drainage systems with regard to tree root damage.
Tree roots can enter a chamber just below ground level and then have direct access into the drainage system, so shallow rooted trees that would not normally trouble a drainage pipe have easy access in even the deepest of systems.
Once inside the chamber the roots will grow down the walls and head for the channel pipe to feed, the initial tap roots can expand and lift the brickwork and the tail roots will fan out in the pipe work causing paper and solids to snag.
How Do Tree Roots Enter Inspection Chambers & Manholes
Most brick built manholes are two courses thick ( approx 225mm or 9 inch in old money ) so they are as substantial as the walls on many properties , the brick work itself can be susceptible to direct root access particularly if there has been ground heave or settlement has occurred due to water loss at the base of the chamber. If the chamber is adjacent to a good sized tree the roots will often disturb. rotate or even lift the top two or three courses of brickwork.
Most Common Causes Of Root Ingress Within Manholes
Cover & Frame - Roots will often enter the chamber between the top course of brickwork and the frame that the manhole cover sits in, the old cast iron frames corroded and expand loosening the mortar around them and covers in driveways are disturbed by vehicle movement again breaking the bond of the mortar or concrete surround.
The image above shows an example of what appears to be a heavily root damaged chamber, if you actually strip the roots out you often find one or two tap roots entering beneath the cover and frame to be the main cause of the problem.
Manhole Benching - Another weak point in the chamber is where the sand and cement benching at its base meets the clay channel pipe, again any movement on the chamber or channel can break the seal between the two and the benching itself can often be eroded allowing the roots in
Reducing Slab - Brick built chambers often have concrete reducing slabs in them that reduce the top of the chamber to a standardised 600mm x 450mm (24` x 18`) , two or three courses of brickwork would be built up off this slab for the cover and frame to sit on. If the slab was cast off site and then placed onto the brickwork without a mortar bed roots have an easy access point into the chamber., the image below shows this scenario.
Concrete Manhole Root Ingress
Concrete sectional chambers have been used on domestic properties since the 1960s, the concrete sections interlock but are still prone to ingress if a mortar slurry was not used on installation.
Plastic Inspection Chamber Root Ingress
Modern plastic inspection chambers are again prone to root ingress if not surrounded in concrete or a root inhibitor on installation