Product Review - Viewline Drain Inspection Reporting Software
Viewline have launched Viewline 550 a drain survey report software designed for the domestic drain inspection market, it is compatible with all CCTV inspection systems and fully MSCC5 compatible. I have used three other reporting software packages in the past and over the last month I have been putting Viewline 550 through its paces prior to this review.
Survey Reporting Software Overview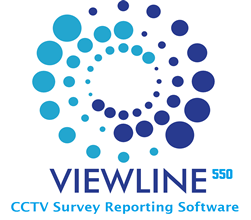 The Viewline 550 software is designed for the domestic market and this is really to do with the amount of information provided in the survey header compared to that required on sewer network surveys, however the coding and presentation of the survey report is in compliance with the Manual of Sewer Condition Classification 5th Edition BN 13508-2-2003 + A1:2011
# Viewline 1200 a software deigned for the assessment of Water Authority assets will be available soon
Product Price - £550.00
# Discount available for registered NADC members
Licence Fees, Upgrades, Technical Support
Its a simple one off payment with no annual licence fees with any additional purchases discounted, you receive full technical support for the first 12 months and the guys at Viewline have put together several `How To` videos and information pages on their website, You Tube, Google+ etc.....
Installation of Viewline 550
The installation of the software could not have been easier you simply make your purchase online and download the software, you will then receive a dongle through the post which you connect to your computer or laptop through a USB port and you are up and running.

Using Viewline 550 with your existing system
If you record direct to a memory stick or SD card you simply record each survey as a separate file and then its an easy process to move the video file into the desired section of the report
If your current system produces a DVD you can play the recording through the software and edit as you go.
To work and record `live` on site you simply connect your laptop to your existing camera system via a RCA or BNC output (which you find on most modern systems, DVD recorders, VHS units etc)
# You will require a composite RCA to USB Converter for options 2 and 3 which retail at anything from £15 to £45.00, very simple to use and the Viewline guys will advise as required.
Using the Viewline 550 Interface
Setting up each report is straight forward enough and you provide contractor and client details and site specific information, you then add information for each section or survey such as start and end nodes, invert levels, pipe materials, pipe size and pipe shape etc as you would expect.
You watch the survey through a viewer and add observations as you go, if you are proficient in coding you can type the abbreviated code in directly or if you are new to MSCC5 codes there are simple drop down lists for you to use. Each defect is graded to industry standard and shown on the report data sheets.
The viewer screen is detachable and re sizeable and it has a frame counter which you can click up or down to make sure you get the exact image you are looking for, taking still images from the recording is as simple as a click of the mouse and you can add the image to the survey report or save to any file on your computer.
Click images below to enlarge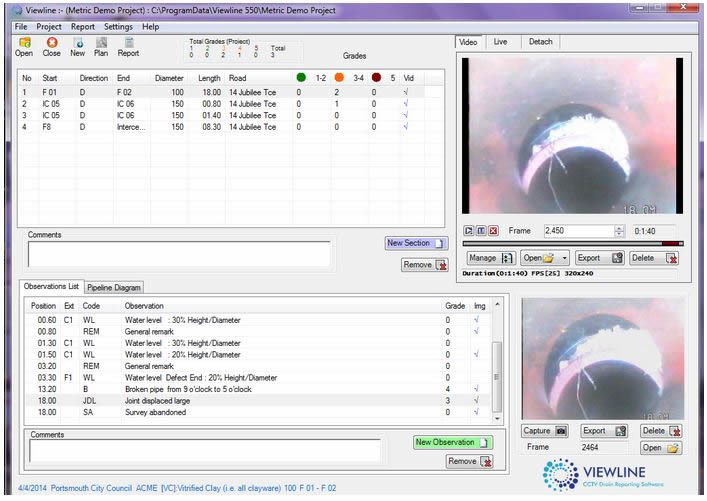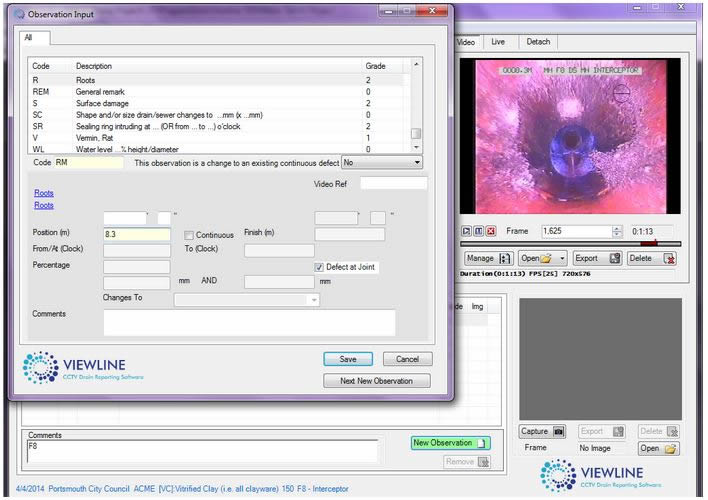 Viewline 550 Generated Reports
You can produce several kinds of report for your client including standard and pdf, there is also a mail merge facility if you use Microsoft Office which produces a cover letter with the report details on it to save time spent on duplication. If you prefer to upload your report HTML files are also produced and you have the facility to import site plans and drawings into all the report packages.
Summary
An excellent piece of software that produces professional looking and time saving reports to the very latest MSCC5 industry standard, its compatibility to all existing inspection systems makes it ideal for those contractors looking to venture into inspection software for the first time or for contractors looking to upgrade their existing software systems.
Price wise contractors can now afford industry standard reporting software for the price of a 150mm drain patch repair installation with no ongoing charges.
Test Drive Viewline 550 for yourselves
You can visit the Viewline website and download a trial version of the software, you can also view the various report templates.
Website - www.viewline.tv Call - Ian or Ray on 01752 358142