Step Irons (Manhole Access)
Firstly manholes and inspection chambers are dangerous places and should not be entered by untrained personnel, please read the following for more information Health, Safety & Drainage Systems if however you promise not to run outside and jump into the first manhole you see you can read on.
Manhole Step Irons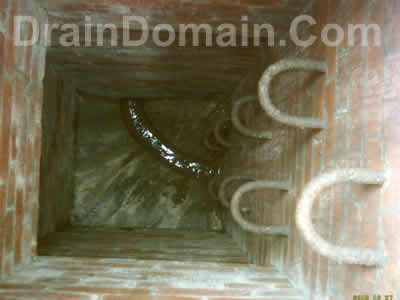 Step irons are the steel or cast iron rings built into the chamber wall so that you can get in and out of the chamber, however given the environment they are in it is little wonder that the older irons corrode and snap over the years. This is why inspection chambers should only be entered with the correct safety equipment provided including a fall arrest winch and line.
You do not know when the chamber was last entered so you should not trust that the step iron will take your weight, a quick visual survey of the rungs along with a good swift stamp onto each step before you put your full weight onto it is always a good idea.

Sods law says that when you will find the only rotten step iron in the chamber with your foot, your chin will find every solid step iron on the way down to the bottom of the chamber, Guaranteed !
If the step iron is solid and capable of taking your full body weight there is always the chance that the mortar between the bricks has perished, this will be the step iron you are holding onto when you are leaning back and before you know it you will be plummeting to the base of the chamber with a perfectly sound step iron in your hand.
Other unwritten rules that apply to chamber access is that the bricklayer who built that particular chamber had the longest legs in the UK, so you being of average height are left swinging your lower leg around looking for the next step with your other knee under your chin, or just as bad the brickie bless him forgot how the sequence of steps should go so you find yourself with two feet on one step trying to traverse half way down a chamber.
This bricklayer was not only 7ft 6inch tall but he also had the physique of a racing snake, so you often find yourself in a 600mm square access chamber trying to bend your knees to reach the next step, so again it is safer and easier to use a fall arrest winch at all times.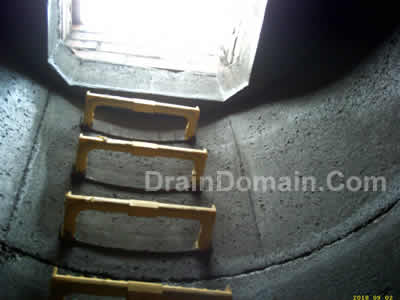 Alternatives to step irons were pieces of angle iron of thin strips or metal set into the corners of the chamber, again prone to snapping or coming out of the wall completely, another favorite is to leave half bricks out of the wall creating a built in ladder, again very tricky to get a decent hand grip on in damp and dark conditions.
Modern Step Irons & Access Ladders
Modern access irons are galvanized and often covered with a plastic coating, on larger diameter manholes where pre-cast concrete rings are used full access ladders are built into the wall of the chamber for safe access into and out of the chamber.