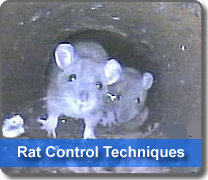 The following information and the pages in the menu to the left are a guide to how rats enter your house, walls, loft and sub-floors, the techniques used to identify where drain rats are getting into your home and proven rat control solutions to prevent them from entering in the future.
Domestic rat problems are on the increase due to several reasons including the mild winters, the well documented floods around the country forcing rats to find their way out of the sewer systems, local authorities cutting back on sewer baiting and pest control contracts and as more people are extending their homes poor building practices allow our little friends access opportunities that were previously unavailable.
Rats live in all sewer systems but they do take little excursions from the main sewers and into the smaller diameter pipe work that runs straight up to your property, think of the sewers as motorways and your private system as an A road and they have a nice little warm, safe and ready made network in which to move around and before you know it they are literally a whisker (pun intended) away from your cavity wall, sub-floor or loft space.
However if your drainage system is well designed and in a good structural condition the rats should not be able to leave the sewer network and enter your home, unfortunately many of the defects we find on domestic drainage systems offer all the access a small rodent requires to explore your property.
Next page - using professional pest control services