Land & Lawn Drainage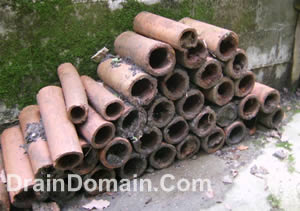 Lawns and gardens flood and retain water for several reasons so you should therefore ask a couple of questions before you decide to spend money on a new land drainage system.
Firstly is the problem an historic one or has the flooding or ponding on the lawn been a recent phenomena, has the landscape changed in your garden or beyond your boundary as a new drive or patio can direct water to one area and overload it whilst a new garage or shed without proper drainage for the roof water can have the same affect. Similarly if your neighbour has imported 50 tonne of top soil and raised his garden by 300mm you may well now be draining his garden as well as your own.
Top soil can become compacted and prevent water from reaching the perfectly suitable sub-soil below and some top soils are more suitable than others for draining lawns and gardens, simply spiking the lawn or digging in coarse sand or fibrous materials can help. There are no shortage of specialist lawn care and gardening sites on the web who cover this subject in greater detail.
Older land drain systems do silt up and block so if the problem is fairly recent or there is a specifically wet area on the lawn or you can physically see water bubbling up during rainfall then it would be well worth excavating a trial pit or two to see if you can uncover the old land drain system, the trick here is knowing when to draw the line because there comes a point where you are spending time and money investigating a system when the money would be better spent on finding a practical solution.
Defective Land Drain Systems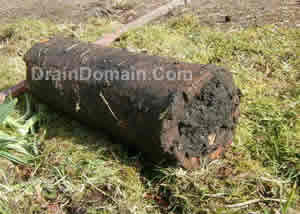 The older clay land drains are butted together and can be anything from 60mm and upwards in diameter and are usually in the region of 225mm in length, they can be circular in shape and often come in a horseshoe shape with no base at all. The back fill around the pipes was usually a loose soil which over the years can be washed into the lines, so the systems are prone to becoming heavily silted and tree root ingress is also a common problem.
If you can locate one of these systems high pressure water jetting is an option but because of the construction of the system you can flush as much sub-soil into the lines as you are removing, jetting hoses also have a tendency to leave the pipe work and get stuck in the sub-soil.

Modern Land Drain Systems
Modern land drainage systems are constructed from solid wall or flexible perforated pipe work with the plastic perforated systems coming in 25. 50 and 100mtr rolls
When installed the pipes are surrounded in a granular fill which itself can then be wrapped in a geo-textile to prevent soil erosion, root ingress and silting to the system, on top of this we backfill selected infill before relaying the turf.
The images below show a typical herring bone type system you would find beneath a lawned area.
Land Drainage Outfall
There is one more vital component to a successful land drainage system, an outfall !. You can put as much pipe and stone into the ground as you want but if the ground is clay and you have not got an outfall then it will just keep on flooding. The outfall could be a ditch, brook, culvert or storm water system and it helps if it is lower that the level of your garden but if necessary you can install a pump chamber and lift the water to the required level.
Land Drainage Silt Traps & Catch Pits
So we will assume you have spoken the relative agency and they have agreed that you can discharge into their storm sewer on the proviso that you install a catch pit to prevent any future silting to the main line system. The images below show a basic catch pit which should be accessible for an annual clean out and for any future jetting or rodding works that may be required.
The catch pit is a basic chamber with the outlet being higher than the manhole base, sediment and silt sink to the bottom of the chamber instead of flowing into the outlet system, some catch pits also have a central baffle wall to prevent leaves and lighter debris from flowing straight through the chamber.
Sports Field Land Drainage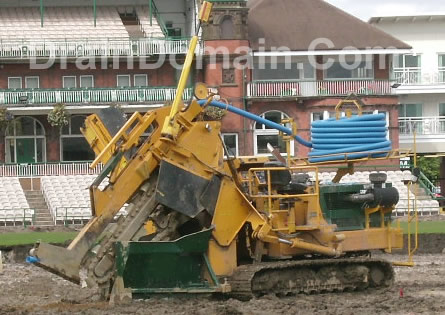 Most purpose built football pitches, cricket pitches and sports fields will have some kind of existing drainage and these systems will be prone to silting like any domestic garden drainage system, we do however find that the years of maintenance and heavy rolling of these pitches can compact the top-soil to the point where the storm water can not pass through to the perfectly suitable land drain system beneath.
There are specialist contractors who provide several services such as sand banding, mole plowing and gravel injection, these techniques can regenerate the top layer of sub-soil allowing water to drain through to the existing drainage system below without the need for major disruptive excavation works.
The bit of kit to the right is purpose built to excavate whilst laying pipe at the same time, on a good day in the right ground type it can lay 1200mtrs on areas such as horse racing courses, cricket, rugby and football pitches.