Basement & Cellar Drainage
We tend to forget that basements and cellars were intended to be dark and damp places where food, produce and most importantly wine could be stored, given the price of land and properties we now utilise these areas for daily life and often convert them into kitchens and additional bedrooms. All this is fine as long as consideration is given to the existing drainage system and what would happen in the event of a flood, but alas this is seldom the case.
Typical Cellar Drainage Layout
A typical victorian property which discharges into a sewer system will have a gully pot in its basement usually situated in a light well or at the base of an external stair well, this gully will run to the sewer with all ground level drainage connecting into this lower level drainage via drop shafts or chambers. I have supplied a couple of images below to illustrate this but there are many variations including properties where the main line drain can run from the back of the property to the front beneath the basement, and terraced properties where a communal drain runs the length of the terrace beneath the basements before it turns and enters a sewer.

Click Images To Enlarge
The classic scenario then is that a blockage occurs in your system between the cellar gully and the outfall into the sewer, the cellar gully being the lowest part of the system is where the sewage and waste water is going to surface and before you know it you are paddling about in the good stuff.

If you are lucky its a dry day and you can of course stop the washing machine and stop flushing the toilets until your trusted drainage engineer arrives, if your system is a combined foul and storm water system and its raining there is little you can do to stem the flow.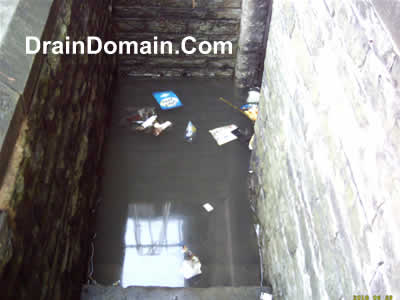 The above sounds bad enough but consider what happens if the main sewer blocks downstream of your connection into it, you are now paddling about in someone else's waste water and when a large diameter sewer fails at peak times or during heavy or prolonged rainfall that can be an awful lot of sewage coming your way, in fact the sewer does not have to block completely as many sewer system surcharge during freak weather conditions because they were not designed to take the number of properties that enter them.
Some basements do not have any drainage at all or there may be a gully that runs to a simple soak away because it is only intended to take any storm water that actually lands in the stairwell or light well.
Converted Basements
When a basement or cellar is being converted the first thing to go is usually the original stone flags because of their value, when the new concrete floor is being put down its not uncommon for the floor gully to be buried because nobody wants a gully in the middle of the new kitchen, bedroom or office.

This is fine as long as it is capped properly, if not any surcharging water will find its way through the slab and cause untold damage and then there is also the risk of rodent activity and internal venting problems.
The old stone flagged basements floors would usually be laid with fall to direct any water to the basement gully so if the floor has been screeded or covered with a thin asphalt coating the falls may well still be there telling you where the original drainage would have been situated.
Water Ingress Through Cellar Walls
The most common cause of water ingress through basement walls is due to a leaking high level drain on the outside of the property, this can be due to open and leaking joints or because a system is blocked or even partially blocked and water is being forced into the sub-soil.
Leaking joints on the outlets of ground level gullies and water loss around the gully pot itself are the usual suspects and the rest bend at the base of a soil vent pipe can often move and leak, basic drainage investigations such as flush and dye testing, drain jetting and a drain camera inspection can be used to locate any such problem.
There are also other things to consider such as leaking gutters or downspouts allowing storm water to run down the external brickwork, defective paths and hard standings allowing water to enter the sub-soil adjacent to the basement or a leaking mains water feed.
Water Coming Up Through A Basement Floor
I have already mentioned that drains get covered or capped beneath basement floors and when this drain surcharges the water will find a weak spot in the slab or at the point that the slab meets any walls.
It was a fairly common practice for builders to install a land drain beneath the basement if they were having trouble with ground water during the original build, they would basically drain the site while they were installing the foundations and then cover the land drain with the basement floor. Over many years these land drains silt up and block or they can become damaged by tree root ingress or other construction works, so if you have water coming up through your floor and its not connected to your immediate drainage system this could be the cause.
The High Ground Water Table Myth, Or Is It ?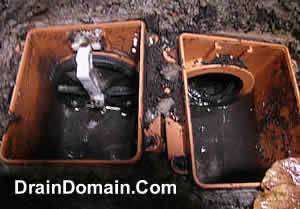 I have lost count of the number of sites we have visited where the home owner has been told by previous experts that the water ingress is due to a rising ground water table, then after further investigations we have found blocked land drains or a collapsed culvert to be the problem.
A few simple questions can usually discount the above as the cause such as how old is the property and how long has the owner lived there, if the house is a hundred years old and the owners lived in it for 20+ years without any problems or hearing anecdotes of previous floods the chances are this is a new problem. Another question should be are any of your neighbours having problems if you are in a terraced or semi-detached property a rising ground water level will affect everybody with a basement.
That is not to say that there is no such thing its just that in over 30 years i have never come across one and its always worth looking at other possibilities, the problem with this kind of job is that there comes a point where you are throwing good money at investigating the problem when you could be putting it towards installing a solution.
Water In Wall Cavity
I had one basement job where a pool of clean water appeared in the basement adjacent to an external wall, i carried out all the usual tests on the outside drainage without finding a direct link to the problem so i took a sample and had it analysed, the results showed that the water was potable so it had to be the cold water feed to the property.
Further investigations on the cold water feed showed no leak and i eventually discovered that one of the tenants in an upstairs apartment had just had a new bathroom fitted, the plumber in his haste to get back to the golf course had not installed an overflow from the toilet correctly and the overflow pipe finished within the cavity wall. The toilet cistern was now overflowing slightly and the water was dripping down two floors of cavity and manifesting in the basement.
How Do I Stop My Cellar Flooding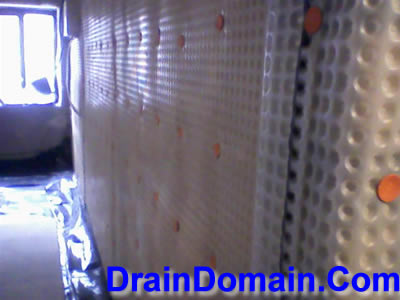 If you are converting a basement it makes good sense to have the drainage system downstream of the basement camera surveyed as this will highlight any defects that could potentially cause you problems, it will not however eliminate the risk of a main sewer surcharging so you may want to consider an anti-flood device.
You may decide to remove any original drainage from the basement which is fine if done correctly but what if you have a major burst in the property or you suddenly suffer from water ingress through the basement walls, installing a submersible pump below the basement floor is a method often used as an insurance against this kind of flood.
Water ingress through walls and floors can be intercepted and controlled and there are numerous tanking systems on the market to keep a cellar dry.
New Basement Drainage Installation
If you are converting a basement and installing new drainage you need to check that the existing system is suitable for connecting into, if you do not have a system low enough to discharge into you will have to install a pumped system of some description.
New Basement Toilet Drainage
If you are installing a new toilet in a basement and there is not a drainage system low enough to connect into there are several macerating units (image to right) available on the market, these basically break the waste up and pump it through a small bore pipe into a higher level drainage system, you can buy toilets with them built in or there is a small box unit that sits at the rear of the pan. They are fairly quiet units particularly if they are sat on a solid floor, they are small and compact so they don't interfere with how far the pan sits away from the wall but you obviously require a power feed so there is a small running cost.
Basement Hand Basins & Washing Machines
There are also small pump units that you can run a washing machine or hand basin into so that the waste can be lifted up to a higher system and they are installed above floor level and usually tucked away in a vanity unit or cupboard, i am pretty sure you can also buy washing machines designed to pump up from basement levels.