Underground Plastic Pipe Work
Modern underground plastic pipe work has an ultra smooth finish and with pipe lengths of up to 6mtrs there are less joints giving these systems great hydraulic properties.. Every item from pipes, gullies and bends, through to pre-formed chamber basis, anti -flood valves and pump houses are available in plastic.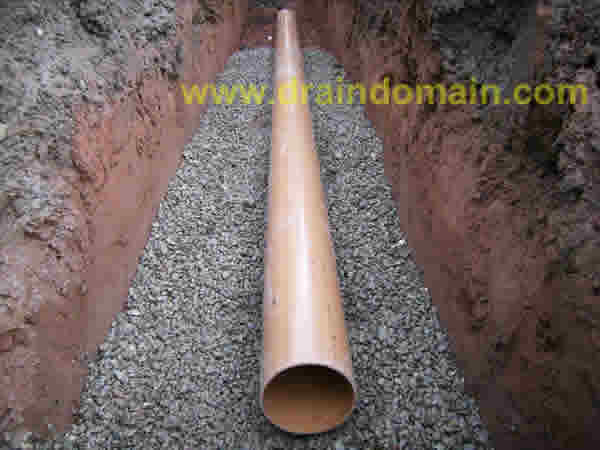 Much lighter than clay and cast iron pipe work this is an ideal product for the diyer as it can be cut with a hack saw and it bounces when dropped saving a return visit to the builders merchants, and many items can be found in the retail park outlets and DIY sheds at fairly reasonable rates.
Good pipe bedding is essential in its installation as the pipe work maintains its structural strength through the granular fill surrounding it, unlike other products that fracture and crack when under external pressure plastic pipe work will deform to a point before failing, certain authorities now insist on pipe profiling before adopting such systems to ensure that the installed pipe work is within the set guidelines with regard to an acceptable amount of deformation.
There have also been questions asked about the pipes suitability to being cleaned and maintained by high pressure water jetting techniques but i have personally not come across any defects that could be attributed to excessive water jetting pressures, i have no doubt that if you went at a system long enough with 20/30,000 psi you could do some serious damage but most domestic jetting units happily chug along at 3 to 4,000 psi and should not pose any great threat to a properly installed system.
There are many types of plastic pipe work for many types of application, wh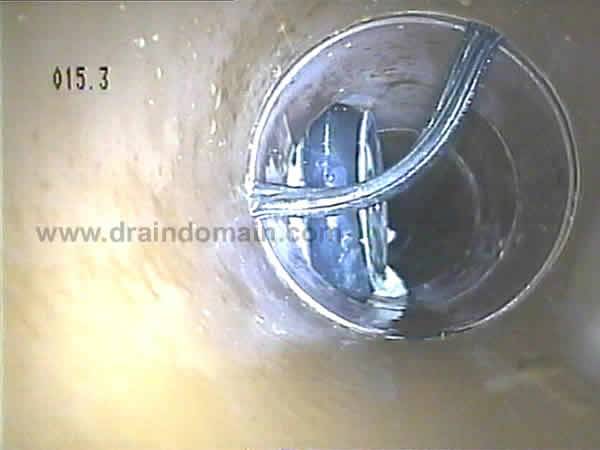 ether that
be a thin walled pipe for domestic systems, twin wall or ribbed systems for highways and road installation and systems and products designed to operate in harsher industrial environments such as vulcathene which is often used in hospital and laboratory environments
The guys who installed the system shown in the image to the right were having a particularly bad day, not only had they managed to displace the sealing ring in the joint but they had also left a pipe bung in the system as can be seen beyond the defective joint. This is fairly typical of what we find on systems prior to the hand over to the client and highlights the benefit of having the system fully CCTV Surveyed.
On the most part if the pipe ends are clean and the pipe sections are square when pushed together using a lubricant then plastic pipe work is pretty much idiot proof.

Common Defects With Plastic Drainage Pipes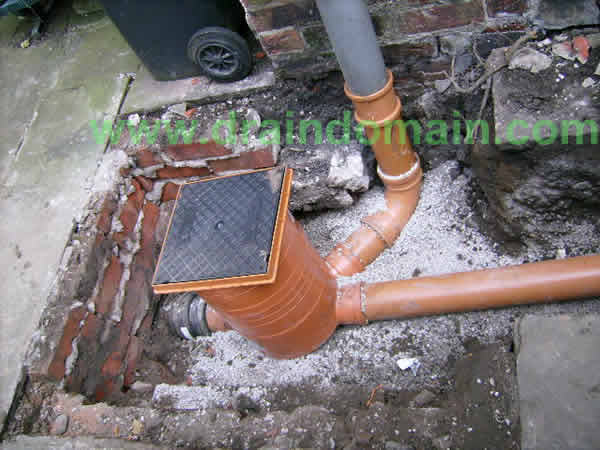 As with most drainage systems the joints and couplings offer little resistance to persistent tree roots, so a root barrier or inhibitor should be used on installation. Poorly prepared pipe ends that are jagged or that have not been lubricated properly can displace the rubber sealing rings when the pipes are jointed, leaving the sealing ring hanging within the pipe and causing the joint seal to fail. Impact damage during installation can affect pipe walls and systems that are not bedded properly will become misshaped and sag.
Repairing Defective Underground Plastic Systems
Tree root ingress to joints can be repaired using a Cipp drain liner repair method, plastic pipes can be easily pipe burst if there has been significant deformation or you want to increase the pipe size by 50%. Patch liners can be used to seal joints when a sealing ring has been displaced and is hanging from the joint. When plastics pipes have become dipped or have severe impact damage an excavation is often the only way forward