Last updated 26 January, 2014
draindmain.com > site map > drainage system parts > anti-flood devices
Drainage Anti-Flood Valves and Gullies
If you are converting a basement it is a good idea to install an anti-flood device of some description as it does not necessarily have to be your drainage system that fails for you to experience a major flood, any blockage or even partial blockage on a shared sewer or just prolonged or heavy rainfall can cause a combined sewer to surcharge, back flow and fill your newly converted basement.
You don`t have to own a basement or cellar to suffer from a surcharging sewer if your home is lower than the road level and only slightly higher than the sewer or drain level you could easily find yourself paddling in your neighbours waste, traditionally it was poor building practices that left a property open to this kind of problem but years of poor maintenance and investment in our sewer networks and the increase volume entering them means flooding in general is on the increase.


Anti-Flood Valves and Gullies, New Idea ?
Anti-Flood valves have been around for many years and were constructed from clay ware or cast iron, in their most basic form you would have a cast iron flap that hung on the outlet pipe but as you can imagine these were a bit problematic when it came to the flow rate on a foul drainage system. The image above left shows a cast iron valve which has obviously been problematic and as a result it has been opened permanently which sort of defeats its purpose.
Modern versions of the basic flap are available as the remaining three images above show and these much lighter valves wont corrode or seize, careful consideration should however still be given where you place them on a foul drainage system.
The original anti-flood gullies or traps would have a copper ball within the trap that would be lifted by the surcharging water level until it formed a seal with a rubber flange stopping the backward flow, the materials used originally corrode and decay over the years and many of these installations are now useless.
Modern Anti-Flood Gullies
The design remains the same but modern anti-flood gullies are available in clay and plastic but not surprisingly the copper ball has now been replaced with a plastic one, these modern materials are far more reliable and free from corrosion but silt and debris still need to be removed as part of a regular maintenance programme.
Anti-flood gullies are ideal for cellars and basements or scenarios where a gully is the lowest point of the drainage system and therefore the flood point.
Modern Anti-Flood Valves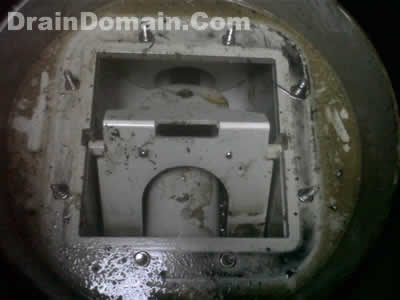 The alternative to installing anti-flood gullies at the lowest point of a system is the anti-flood valve which can be installed anywhere on the main line drainage run, you would typically install one just before your drainage system crosses the boundary line or in a basement just before the pipe work leaves the footprint of the building
The modern materials used on these valves prevent the corrosion and deterioration found on the earlier systems, however i would recommend that the units are opened at least once a year to ensure that a build up of silt or debris does not hinder the operation of the valve.



How Anti-Flood Valves Work
Anti-flood valves come in a pre-formed chamber where floats sit on either side of the inlet pipe (fig A) when the water level rises the floats lift and rotate the drain stopper over the inlet (fig B) and lock off the upstream system.
These valves are extremely effective and as the drain stopper is out of the way during normal operations they are suitable for combined and foul drainage systems, unlike many of the flood devices that simply rely on a flap that hangs in the pipe work hindering the flow of water and waste.
Anti-Flood Alarms
There are a number of anti-flood alarms on the market that activate when the water level rises beyond an acceptable level in manholes, inspection chambers or pump chambers, they operate on a float switch system or when the water level bridges a sensor and the alarm is activated wirelessly.