Drainage Anti-Flood Devices
If you are converting a cellar or basement it is a good idea to install an anti-flood device of some description as it does not necessarily have to be your drainage system that fails for you to experience a major flood, a blockage in the public sewer within the road or just prolonged or heavy rainfall can cause a shared combined sewer to surcharge and fill your newly converted basement.
Anti-Flood gullies, traps and valves have been around for many years and are constructed from clay ware, cast iron and of course plastic. The older units are based on a copper ball within the trap rising with the water level until it forms a seal with a rubber flange or seating stopping the backward flow, but if not maintained properly silt, debris and erosion of the materials used can often cause the unit to fail.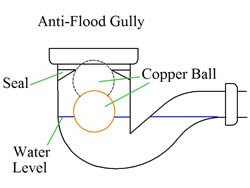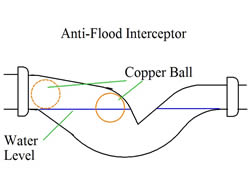 Modern Anti-Flood Devices
You can still get anti-flood gullies from at least one manufacturer in the uk however we tend to use anti-flood valves these days.
The modern anti-flood valves come in a pre-formed chamber where floats sit on either side of the inlet pipe (fig A) when the water level rises the floats lift and rotate the drain stopper over the inlet (fig B) and lock off the upstream system.
The modern materials used on these valves prevent the corrosion and deterioration found on the earlier systems, however i would recommend that the units are opened at least once a year to ensure that a build up of silt or debris does not hinder the operation of the valve.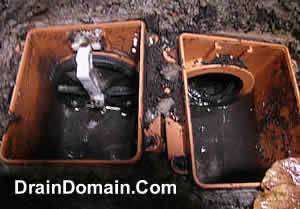 The valves to the right are basically a spring loaded flap that in theory allows water and waste to pass through but then lock in place when a surcharge of water from a downstream position occurs, i am not a big fan of these as they will always be prone to solids and paper snagging and infact we were cleaning these ones out because they had failed.

They are not solely for basements and cellars and can be installed to prevent flooding from problematic sewers or to prevent surcharging from brooks and rivers on storm water systems and to stop rodent ingress.