Drain Excavation & Repair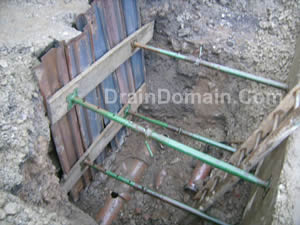 Specifications for pipe work and pipe bedding are covered elsewhere in the site the following is a basic run through of things to be taken into account when excavating a privately owned domestic system, there are however strict guidelines for excavations within the roads, footpaths and highways and such works can only be carried out by approved contractors.
There are many methods of drain repair but more often than not at some stage of the proceedings it will be time to get the shovels out of the van, there are occasions when a system can be repaired solely using a No Dig method such as a manhole to manhole relining job, however if there are junctions, lateral connections or severely misaligned joints then it is inevitable that some excavation work will be required.
This is particularly relevant to domestic drainage systems where you have numerous connections entering a system over fairly short distances, and defects found on the main line serving a property such as root ingress or misaligned joints and fracturing will in most cases also be found in the branch lines to the gullies and soil vent pipe.
When the repair works are related to subsidence or water ingress to cellars and sub floors then it is these branch lines that are of most concern as they are adjacent to the property foundations, so there is little point relining the main line drainage and leaving the leaking and fractured rest bend at the base of the soil vent pipe.
There are several things to take into account before you start to rip up your driveway and renew your drainage system the most important one is SAFETY, it is not uncommon to find other services buried in the same trench as your drainage system such as gas, water and electric, if they were not laid in the same trench they will at some point cross it. So it is important to locate these services prior to works commencing.
Excavations are dangerous places for both the poor sod digging them and anybody else who may have to come into the working area, they are also confined spaces so the relative safety checks should be made, there are also little life threatening things such as Hepatitis B and Leptospirosis to be taken into account.
Shuttering should be used in trenches deeper than 1200mm, of less if you are working in unstable ground, it is bad practice to work in a trench on your own and barrier systems should be used to isolate the working area.
Method Of Excavation
There are many types of mini excavator on the market for hire, some small enough to fit through a door way or down a small path way at the side of the property however on many domestic systems it is safer and less disruptive to excavate by hand. Many systems are just too shallow to warrant an excavator and if you do manage to uncover an electric cable without ripping it out of the ground you then end up hand digging around it while the excavator stands idle for the afternoon.
Don`t get me wrong if its a deep dig and there`s plenty of it, fence panels, gates and hedges have been removed to gain access for a machine, but by the time you have boarded off the lawn or patio to trundle a small tracked machine across you can have a 1 meter square dig out and piped up. If you are a contractor who owns a machine then if its used for an hour in a working day its done a job, if your a DIYer and its on hire then you want your moneys worth.
Storage Of Excavated Spoil
So you have fenced off the area you are working in and your have scanned the site for services the next step is to work out what you are doing with the excavated spoil, have you got room to store the spoil on site, is the spoil suitable for back filling or are you going to skip it straight away. If you are using the spoil for back filling then store it away from the dig and cover it so it stays dry.
What Materials To Use ?
You`ve done it you have exposed the defective pipe work without electrocuting yourself or allowing rats urine into an open sore on your hand, congratulations ! its now time to replace the broken and fractured drains. Before you rip out the original systems its time to practice the lost ancient art of list making, make a list of every bend, junction and adaptor you will require and then add some more before you trot off to the builders merchants. Decent contractors turn up with numerous bends, junctions and adaptors to cover every scenario when ripping out the old pipe work because at 4.45pm on a wet Wednesday they don`t want be heading for the builders merchants to pick up an extra bend or junction.
You want the process of replacing the pipe work to be as swift as possible for several reasons, you don`t want to leave the home owner without the use of the basic facilities for any longer than is necessary, and you don`t want to be paddling in raw sewage for any great length of time either.

Water running through a trench base can erode the sub-soil and make the trench unstable, the concoction of waste and mud you have paddled up will tread all over the site putting a half day on the job in clearing up time alone.
Site Reinstatement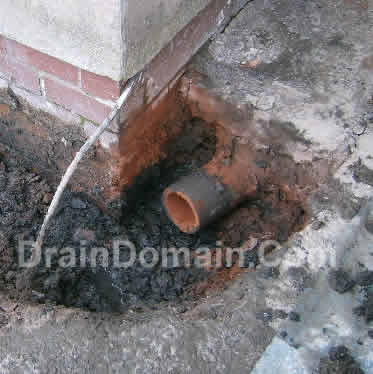 Your all piped up and you have surrounded the renewed section in a suitable granular fill you now need to back fill your selected spoil compacting at specified depths to prevent future settlement to the excavation. In most cases you will reinstate the excavated area like for like unless otherwise specified. You should be thinking about the final reinstatement prior to the initial excavation works and its a good idea to take some still images prior to the works starting.

All contractors will have been back to jobs because the home owner has a snag list and you know damn well you have left the place in a better state than you found it, in fact its often the case that the paving you reinstated shows the rest of the drive up and they think because the works were insured they should get the whole drive renewed, anyway i digress.
You have to assess whether you will be able to lift the existing flags without breaking them, if you do break a few can they be easily replaced, if they are already broken point them out to the home owner and get some snaps as evidence. All this may be unnecessary or it might be a life saver when the insurance company are holding payment up because the insured or loss adjuster refuses to sign the job off.
I would say that a half decent DIYer is more than capable of renewing a gully or a section of pipe work if they have the plant and machinery required at hand and they don`t mind risking life and limb. If however the hire of a concrete breaker, disc cutter or mini excavator is required or they have to over order materials in order to have sufficient pipe work on site and then pay the builders merchant a 15% handling fee to take the surplus back, then your time would be better spent tracking down three contractors and getting like for like quotes.