There are many reasons for having drainage systems investigated such as home buyer surveys, investigating why a system regularly blocks, water ingress to cellar or sub-floor areas, subsidence investigations or you may need to know where a system runs before you build your new extension. Some of the methods used are basic and have been used for hundreds of years whilst modern drain camera systems let you view the inside of the pipe work for a detailed inspection.
Basic Scenarios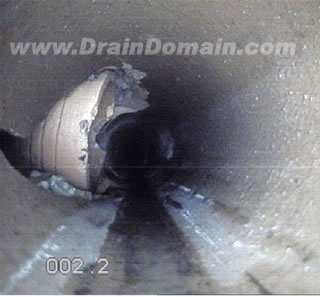 If you have a reoccurring problem with a section of drain and your contractor is retrieving tree roots or broken pipe work then you will require a CCTV Drain Survey, this will tell you the extent of any damage that may have occurred and the best method of repair available.
If you have waste water ingress half way up a cellar wall adjacent to a waste gully then simple dye testing may well tell you all you need to know, likewise if you need to know the line of a main line sewer before you install your extension foundations a simple sonar trace will confirm the route and depth of the drain in question.


A CCTV Survey that finds broken & misaligned pipe work can not be faulted, but i have also surveyed systems with sound alignment of joints and no obvious defects that when excavated were found to have leaked like a sieve with great chasms found under each joint due to years of soil erosion.
The following are several ways that drainage systems can be and are surveyed and tested, once again i can not say that there is a definitive way to survey or test a system, but there are processes that you can follow and combine.
Drain Flush Testing
As simple as it sounds you flush a toilet, run a tap or pour a bucket of water down a gully and then stand at the manhole (if there is one) and wait for the water to come through, not overly scientific is it but people buy houses on the back of such investigations. If the water does not come through is the system blocked, are there two separate systems or is that storm gully on a soak-away ?, if the water does come through is it the full amount you put in or are you losing 20% to the sub-soil on the way. If you want to really push the boat out you can put toilet paper in the toilet before its flushed too see if it come through, just to add that extra bit of tension to proceedings.
Dye Testing
One of the simplest and most efficient methods of investigation when your dealing with water ingress to cellars and sub-floor areas, methodically dye test different sections of the system using several colours to identify the problem section. The drain dye comes in powder and tablet form, it is environmentally friendly and will not stain bathroom fittings.
More info on drain dye testing

Water Analysis
Another simple tool when investigating water ingress to cellars or sub-floors by taking a sample for analysis you can determine if your dealing with foul water, potable water or ground/storm water, if the results are not definitive they will normally exclude at least one of the above options which allows you to concentrate your investigations in the right area.
You will have to find a local laboratory to do the analysis and you could try your local water company who if your lucky may even do the test for you, if not you will have to collect a sample of water in a steralised bottle and provide it to the lab within 24 hours making sure you keep it out of direct sunlight, cost wise you should be looking at around £70 to £90.
Water or Air Pressure Testing
Bag testing or water testing is not only used on new build drainage but as an investigation tool, many of the older systems would probably not have held water under pressure when they were put in, if the system does leak under pressure is it leaking from the crown of the pipe or the base ?. Not the most efficient way of testing a system but a bloody good way of generating work i suspect.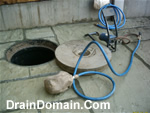 A typical water test will involve installing a bung at one end of a line and then filling the upstream section with water usually measuring the water level from within an upstream manhole, this of course can be flawed if you do not bung off any incoming branch lines or the chamber itself is not water tight.
Another method is to install a bung on a line entering a manhole and then filling it with water until the level rises on the lowest point of the system whether that be an external gully or an internal WC.
A pressure test involves installing a bung at each end of a run and pumping air through one of the bungs with an air line, the air line is connected to a gauge that has a small amount of water sitting in a u bend, as the pressure builds the water rises and holds in position if the system does not leak.
Drain Camera Inspection Systems
A visual survey of the inside of the system , there really is no hiding place any more. Ideal for locating those defects that lead to blockages such as root ingress, broken and misaligned pipe work and generally testing old and new drainage systems.
More info on Drain Camera Inspections


Sonar Drain Tracing
Surely the holy grail of drain tools for any man who has hand dug an eight foot deep hole only to find he`s missed the pipe by three foot. You push a transmitter down the system and follow the signal above ground with a receiver, this will not tell you the condition of a system but it will tell your where and how deep it is, ideal for pin pointing defects found in camera surveys prior to excavation works, for locating buried chambers, septic tanks and your CCTV Drain Camera when it gets stuck.
More info on Sonar Tracing

Pipe Profiling
Nothing to do with CSI Miami this is a tool that in layman's terms scans a ring of light onto the internal wall of the drain and software is then used to measure any deformation of the pipe. Increasingly called for as newer materials take the place of the traditional clay and concrete pipes which show obvious defects such as cracking and fractures when under pressure, the powers that be now set a tolerance for deformation of new sewer systems made of modern flexible materials and this is the tool of choice for checking the systems prior to hand over.
Ground Penetrating Radar
Increasing used to locate drains and services from ground level, legend has it that somebody developed a unit that travels down the drainage system and gives readings on voids and soil erosion around pipe work and joints, a clever tool if it is out there and of particular use to pipe bursting contractors i would have thought.